Regular price
Sale price
£2.99
Unit price
per
Sale
Sold out
Zeus Juice Nic Salt E-Liquids
A superb nicotine salt e-liquid selection that is created in the UK, Zeus Juice offers some of the most popular mixes from their shortfill collection and is available in a variety of nicotine strengths. Derived from a combination of menthols and fruit fusions. Since 2011, Zeus Juice has been in business, making it a well-established and very popular brand that will captivate your taste buds with its high-quality tastes and one-of-a-kind combinations.

One of the best selling brands, Zeus Juice Nic Salt Eliquid, and it has a concentration ratio of 50% VG (Vegetable Glycerine) and 50% Mixed PG (Propylene Glycol), as well as salt nicotine and high-quality food flavourings. A flavour profile that is ideal for mouth-to-lung (MTL) vaping! 5, 10 and 20 mg of nicotine are available to choose from.
Zeus Juice Nic Salts Flavours:
Adonis
Adonis is an exceedingly sweet story with a delicious flavour; you'll fall in love with. A beguiling combination is produced when ripe strawberries and freshly harvested raspberries are combined; this concoction exudes the delicious flavour of summer.
Apollo
Zeus' very own Apollo juice originates from the legendary, blue fruit that was cultivated by Zeus. The unique mixture, which has a trace of raspberry and a trace of blueberry, combines to provide a flavour profile that is not only smooth but also robust, and it is woven together with the tartness of carbonated lemonade.
Athene
The delicious flavour that lasts throughout the day in Zeus' Athene juice is perfect for the warm summer months. This juice is packed to the brim with luscious watermelon and freshly picked strawberries, and it is mixed to perfection with tart lemonade to give it a rush of citrus flavour.
Atlantis
Blueberries, raspberries, and a touch of menthol come together in this invigorating and pleasant mix that will transport you to the depths of the ocean.
Black Reloaded
Black Reloaded is an improved take on Zeus' signature flavour, The Black, and has quickly become our most popular flavour overall.  Black Reloaded is a winning flavour that is meant to be revered since it is enriched with a little more menthol and sweet but gently spiced aniseed. Both of these elements contribute to the flavour. 
Cerberus
Cerberus, the fiercely delicious fruit combination that watches over the entrance, is composed of blood orange, peach, and cranberries, with a hint of menthol for good measure.
Cinnabird
Look to the heavens to find out where the flavour comes from. A slice of freshly baked scone, embellished with a nest of juicy blueberries and a beautifully delicious cinnamon, will uplift your senses as you glide gently into the next inhale.
Daphne
The flavour of Zeus' Daphne vape is reminiscent of the creamy and tangy goodness of blackberry cheesecake. The rich sweetness is balanced out by a topping of fresh blackberries that have been hand-picked and a drizzle of blackberry coulis. The base of the dessert is a buttery biscuit that has been filled with chilled cream cheese.
Death By Bunny
Zeus' interpretation of a British classic, "Death by Bunny," conjures us images of lazy afternoons spent outside in the heat. Dollop after dollop of freshly whipped cream is a devilishly delectable recipe that will delight all of your senses and is best served alongside ripe, luscious strawberries.  
Dimp Reloaded
 The eternally revered Dimpleberry, reformulated with an increased amount of menthol and eucalyptus and mixed with a diverse assortment of berries for more complexity. The unique and beautiful combination known as Dimpleberry Reloaded deserves to be respected.
Dimpleberry Ice
All of the delectable nuances and complexity of the original, including menthol, eucalyptus, and berry notes. accompanied with a crisp and refreshing ice.
Dimpleberry
Since its inception in 2014, Dimpleberry has been one of, if not Zeus' most well-known blue e-liquids due to its enduring popularity. Dimpleberry is an intricate mixture of berries that, when blended with menthol and eucalyptus for a cooling effect, results in a multi-layered burst of tangy sweetness that is incredibly aromatic.
Dodoberry Ice
A tingling sensation of ice envelops you while the flavour of dark woodland berries and mint that will make your mouth water.
Dodoberry
Dark forest berries that have been hand-picked from Zeus's garden, combined with a delicately refreshing mint flavour that will make your mouth water.
Helios
Zeus' Helios juice strikes a perfect balance between sweet and sour, capturing the essence of the sun's warmth during the summer months. Its warm, rich blend encompasses a wonderful touch of the tropics thanks to the combination of the velvety softness of acidic apricots and the delicious juiciness of flawless peaches.
Midas
Feel like the golden king. A mountain of vanilla custard covered in a wonderful, sugary, and sticky butterscotch sauce swirled on top.
Nessie
Zeus' Nessie vape is a mysterious concoction that is difficult to describe because it was inspired by the enigmatic flavour of Scotland's most beloved beverage. Try some of their delicious Nessie juice, which has hints ranging from orange and blackberry to tutti-frutti and bubble gum, and see if you can identify the flavour.
Pegasus
A legendary blend of black grapes, strawberries, and snow-white sherbet that will send your spirits flying into the heavens.
The Animal
The Animal is currently on the prowl, following in The Black's footsteps. The invigorating aroma of sweet oranges blended with the classic dark berry and blackcurrant base, with just a hint of menthol added in for good measure. It seems that orange is the new black...
The Black Ice
All the layered complexity that you've come to expect from The Black... The only difference is that now hell is completely covered in a thick layer of ice.
The Black
The first version... The most well-known example of its kind... A mouthwatering concoction that combines dark berries and blackcurrant with just a touch of menthol.
Typhon
A explosive and potent mixture of sweet raspberry and fresh, acidic lemon, perched atop a delectable tower of cookies. This combination is powerful and tremendous.
Vermilion
Vermilion is an exquisite combination of cherries and menthol,'reloaded' with red berries, and it is bursting at the seams with flavour that lingers for a long time. 
Vermilion Reloaded
Vermilion, which is the essence of life, runs throughout the gods. Your palate will come to life as a result of a reloaded blend of sweet cherry that is propelled with robust aniseed and an intense menthol. This will enchant your soul.
View full details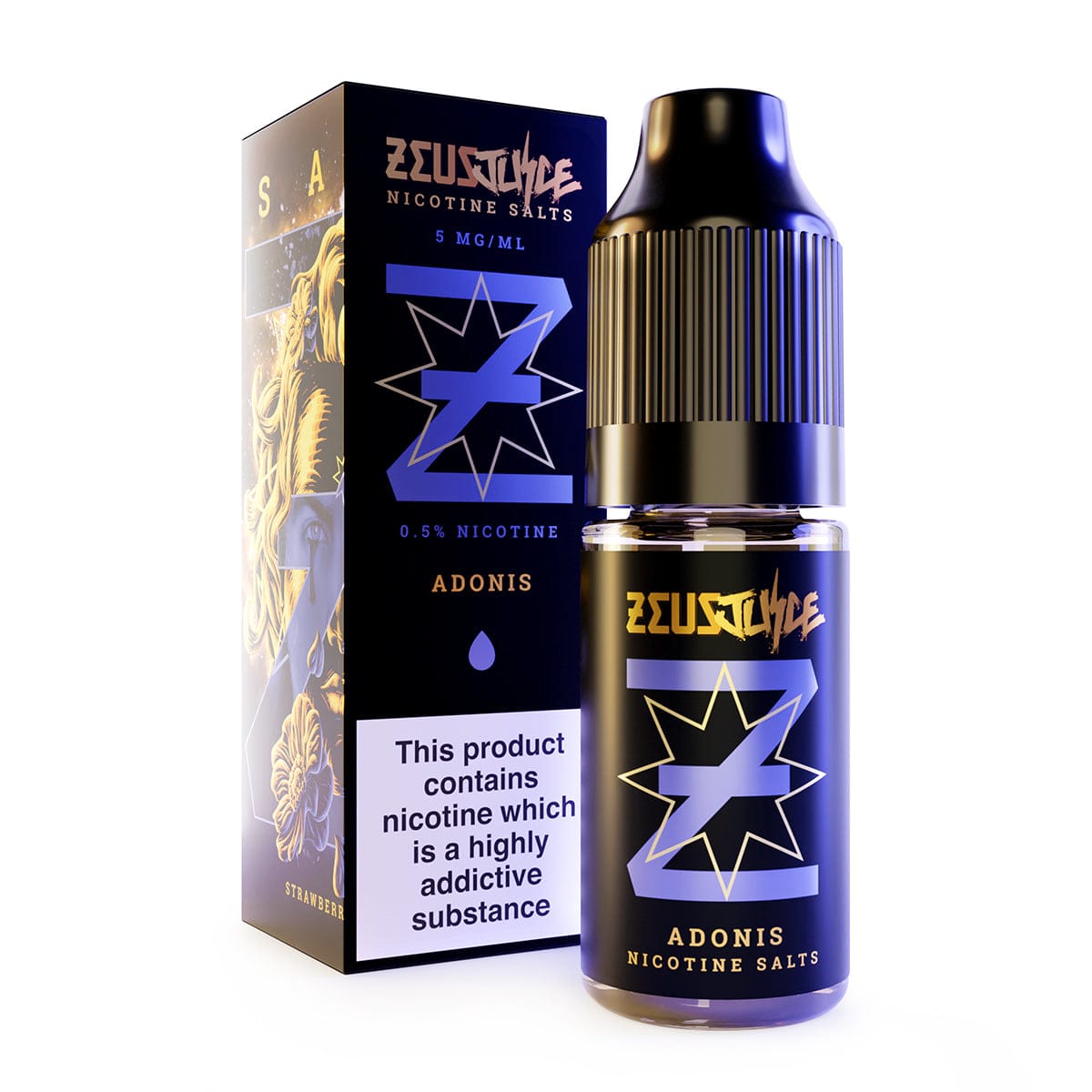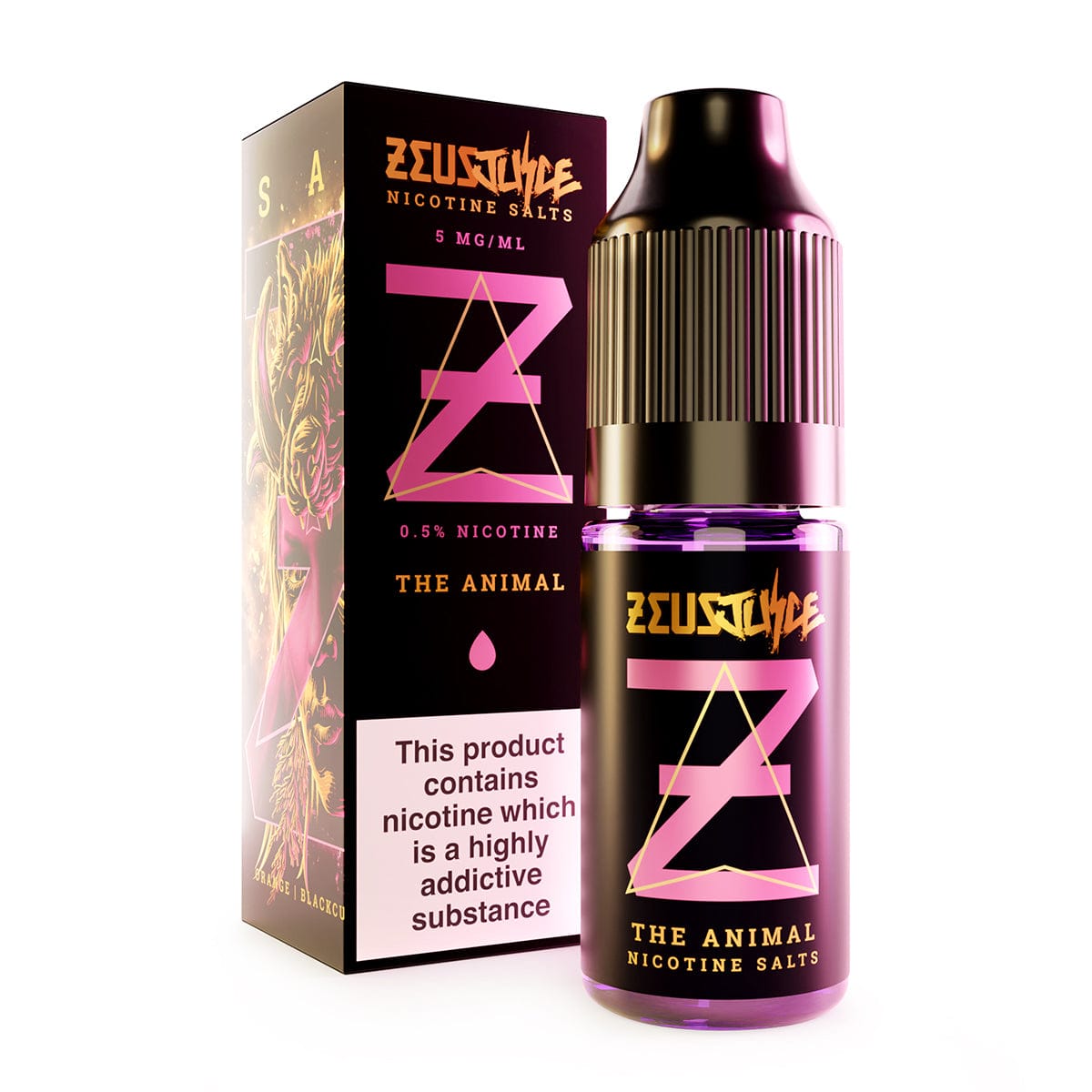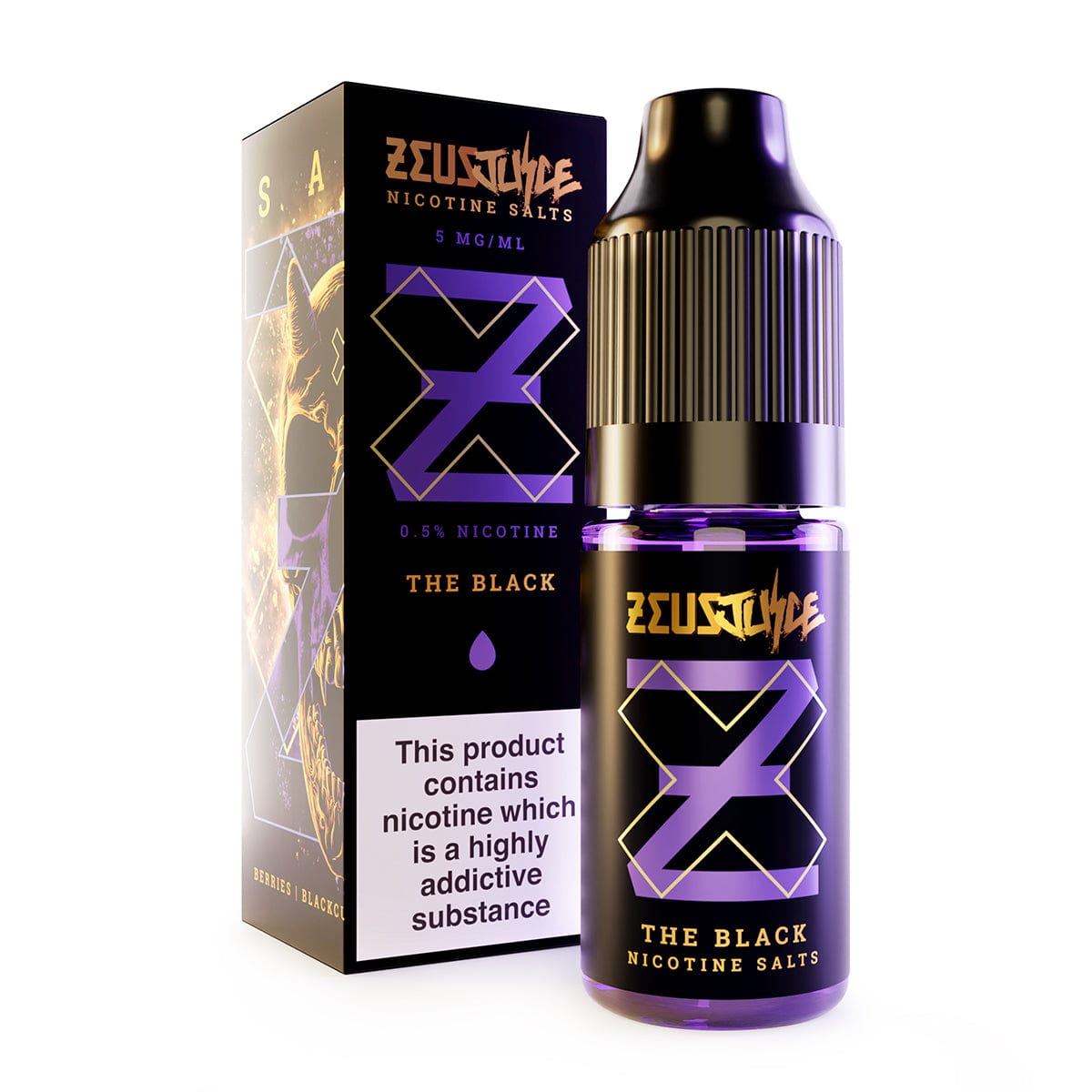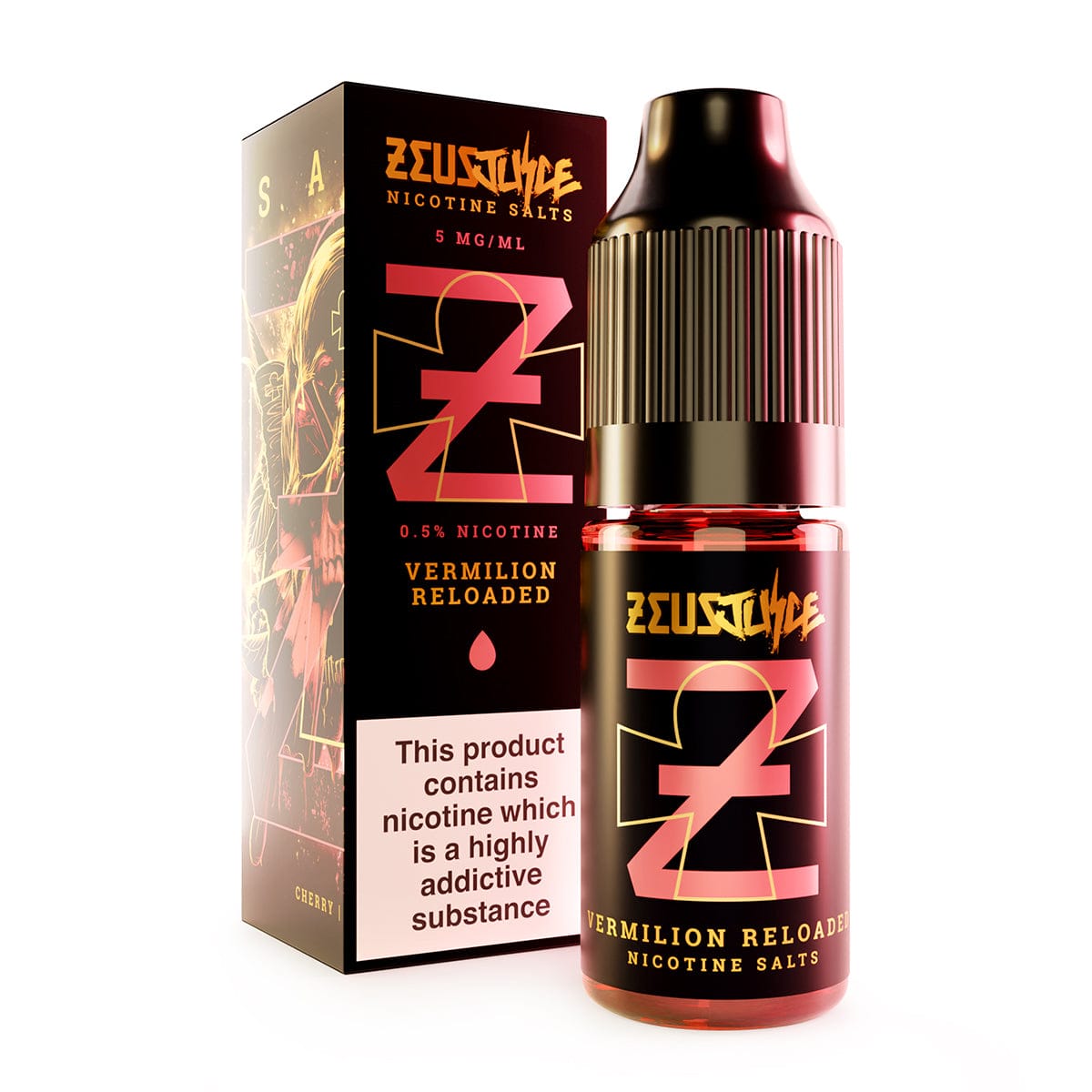 Zeus nic salt
Only juice that I get, great staff will go the extra mile to help and advise you.
Love
Great staff and customer service lovely liquid recommendation from the staff based off my preference
Flavour
The Black is one of the best flavours I've come across since quitting smoking, all good so far
Great value for money
Love all the flavours and great value for money