Regular price
Sale price
£2.99
Unit price
per
Sale
Sold out
Six Licks 10ml Nic Salt Liquids

Six Licks are a UK e-liquid brand that focuses on strong and unique flavours, these vape juices have a PG/VG ratio of 50/50 which is perfect for pod kits. Six Licks Nic Salts come in a wide variety of flavours and offer 10mg or 20mg nicotine strengths. If you are a sub ohm vaper, checkout the Six Licks Shortfills.
What Flavours Are Available In The Six Licks Nicotine Salts?
Berried Alive
Berried Alive Nic Salt E-liquid by Six Licks mixes the ripest Strawberries with notes of exotic Guava, and the vape is finished off with a Watermelon exhale for some much-needed relaxation. A bold combination of fruits that is just right for vaping all day long!
Bite The Bullet
In this intricate and flavorful combination, a top-secret mixture of various dark fruits gives way to the strong sting of aniseed.
Bluemonia
An infectious combination of luscious raspberries and blueberries that have been frozen and mixed into a lethal all-day vape. This vape flavour exactly resembles the taste of frozen fruit that is found in a blue slushie.
Cherry On Top
Rich Cherries, Tart Raspberries, and Sweet Pears come together in a spectacular way in this six licks nic salt. A tremendous victory for the flavours of fruit!
Elderpower
A flavour combination of fresh fruit consisting of aromatic Elderflower, zesty Oranges, and the most tangy Lime tangs possible.
Liquid Gold
Something that is prized for its rarity, aesthetic appeal, or overall high level of excellence. Just like how this exquisite beverage is finished off with the right balance of tangy blackberries, sweet raspberries, and a hint of tart apple. Everyone was looking for it, but only a select few managed to find it.
Love Bite
This mix of blood orange and grapefruit will ensure that you are always feeling refreshed, creating a flavour profile that is both opulent and appealing with each and every hit.
Melon On My Mind
Your taste buds are going to go crazy for this exquisite combination of different melons found in Six Licks. The perfect vape for any time of the day is this delicious combination of honeydew, melon, and watermelon.
Passion8
A juicy combination of passionfruit and pear that twirls between fruity notes that are both sweet and silky as hit after hit is delivered.
Truth Or Pear
They experimented with a wide variety of fruit mixtures, but the truth of the matter is that this medley of luscious strawberries, sharp lime, and fresh pears is so delicious that we defy you to vape anything else!
Six Licks Nic Salt E-Liquids Features:
10 Flavours
Nicotine Salt 10mg or 20mg
50/50 PG/VG Ratio
Perfect for MTL Vaping 
View full details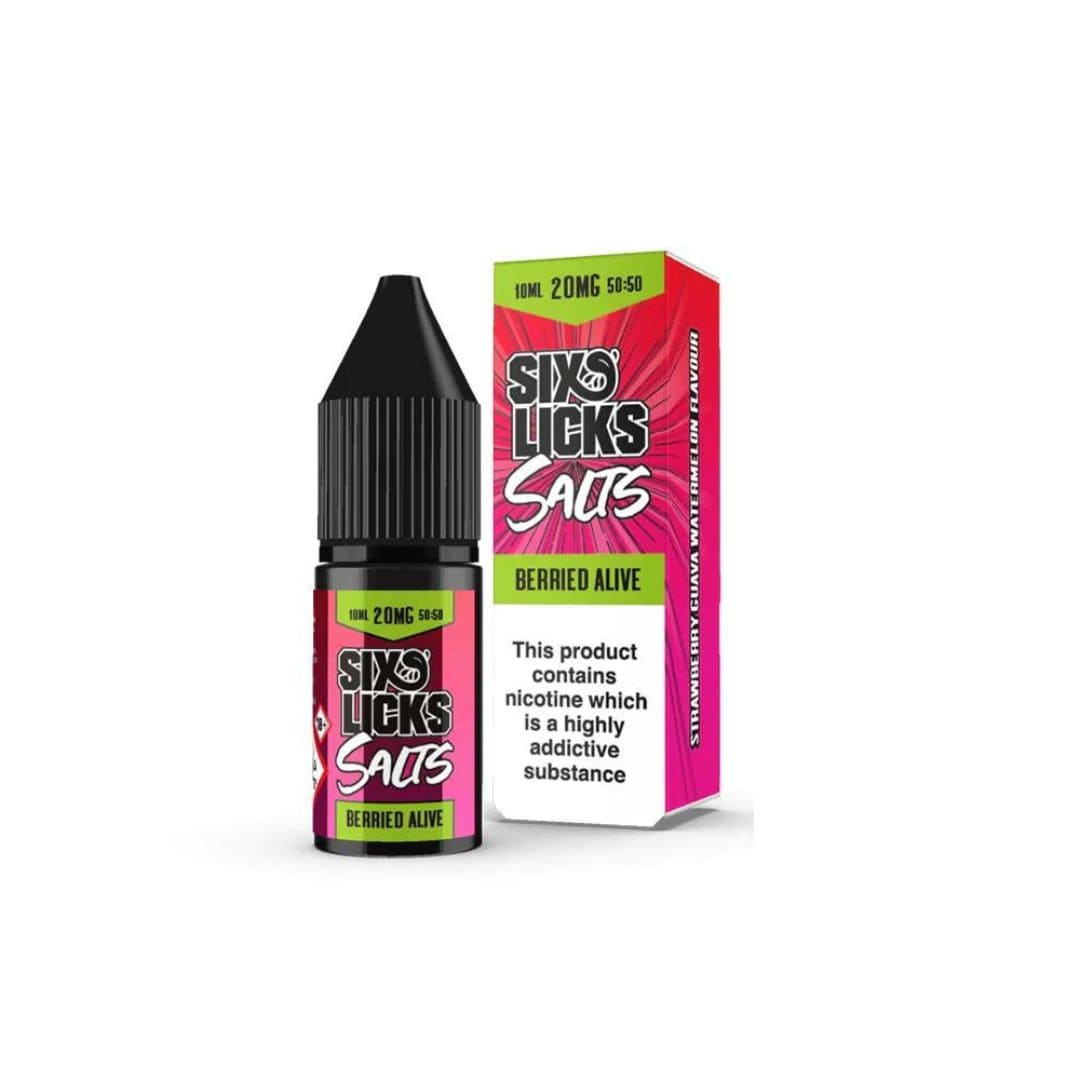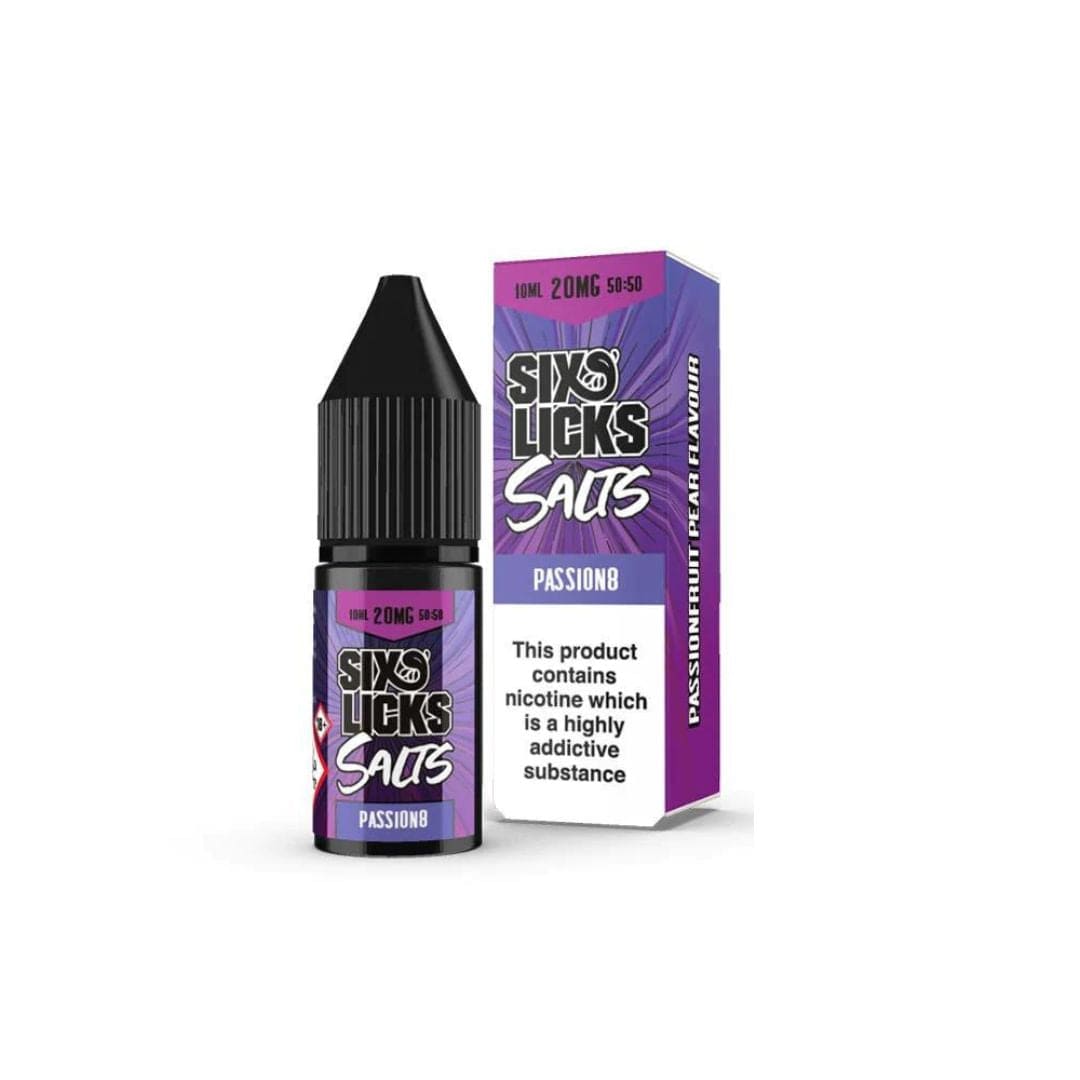 Truth or pair
This is in my top 3 very fruity tasting for all the fruit lovers would totally recommend