Regular price
Sale price
£3.99
Unit price
per
Sale
Sold out
Lost Mary BM600S Disposable
In comparison to the original, the performance of the Lost Mary BM600S Disposable Vapes has been significantly enhanced.

The Lost Mary BM600S is the latest generation of the BM600 disposable vape, which has become very popular. With a QUAQ Mesh coil that ensures optimum flavour creation and a design that is both elegant and compact, making it ideal for vaping while on the go.

Up to 600 flavorful and silky smooth puffs of vapour are included with every Lost Mary BM600S you purchase. The device comes pre-filled with 20 mg of nicotine salt e-liquid, which provides a satisfying throat hit and is ideal for people who are trying to satisfy their cravings for nicotine. These portable and easy-to-use vape kits are perfect for people who are just starting out on their journey to give up smoking because they come with a choice of four incredible new flavours.

The Lost Mary BM600S was created with ease of use in mind from the very beginning of the design process. Because it has a mechanism that is activated when you take a breath in, you may begin vaping as soon as you remove it from its packaging. Additionally, there is no requirement for maintenance or refilling because it is a disposable vaporizer. Use it up completely before disposing of it in an appropriate manner after you have done so.

The Lost Mary BM600S is the ideal product for you to purchase if what you desire in a disposable e-cigarette is one that is rich in taste, easy to use, and reasonably priced.
Lost Mary BM600S Flavours:
Berry Combos
Pina Kiwi Lemonade
Straw golden Pina
Lemon Lime
Lost Mary BM600S Features:
Inhale activated just pick up and vape
Built-in battery, this will last long enough to use all the juice in the kit
No charging or refilling is required; use it until it is empty then dispose of it
600 Puffs
QUAQ Mesh coil
View full details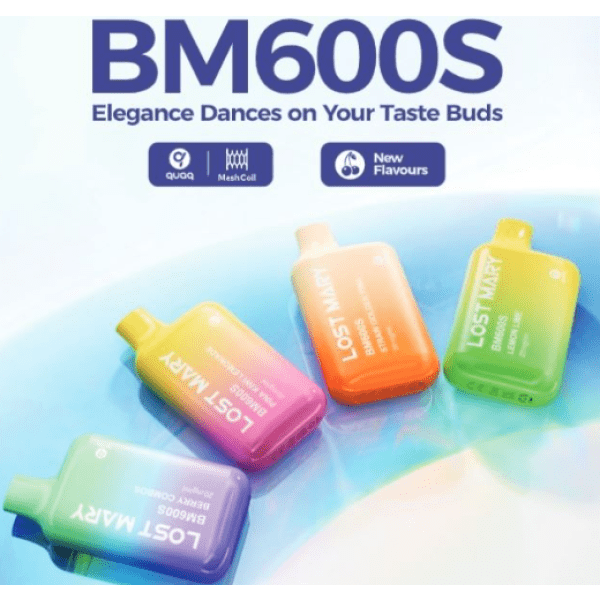 K
Was ok did not last long tho