Regular price
Sale price
£2.99
Unit price
per
Sale
Sold out
Yeti Nic Salt 10m E-Liquids
Yeti Nic Salt E-Liquids, all your favourite Yeti Ice Cold flavours in higher strength 50/50 Nic Salts. These fruit ice combos are perfect in combination with mouth-to-lung pod kits.
What Flavours Are Available In The Yeti Nic Salts Range?
Energy

Yeti Energy is a thrilling flavour that combines energy-boosting sweet summer berries and a crushed ice energy beverage infused with menthol for a refreshingly chilly effect.
Apricot Watermelon
Yeti's Apricot Watermelon is an invigorating combination of highly delightful flavours, featuring the sweet and acidic taste of apricots coupled with the juicy flavour of watermelon that has been freshly sliced.
Blood Orange & Grape
This delightful all-day vape features a flavorful combination that brings together ripe Blood Oranges and black Grapes.
Pink Raspberry
Following the unprecedented success of the world-famous Blue Raspberry, the Yeti moved in quest of other berries that would explode on the taste senses of its customers. I want to introduce you to your new favourite raz!
Passionfruit Lychee
An exotic vape juice blend, Yeti Passionfruit Lychee features notes of tart passionfruit fruit blended with those of sweet lychee, which predominates in the inhale. Ideal for a vape that lasts all day!
Citrus Freeze
The Yeti pulled this one straight from the citrus freezer. A face-twisting citrus explosion awaits all who dare to enter the tundra.
Frost Bite
Bite back with this iceberg-smashing berry bonanza. A super fruit collective with the one and only Yeti chill.
Dark Fruits
When the sun goes down in the arctic, load these fruits onto your coils and get ready to enter a flavour state where everything freezes over.
Pineapple Grapefruit
According to the urban legend, these two magnificent fruits formerly flourished in great numbers on the icy plains. In creating this fusion of frozen fruit, the Yeti took care of that part.
Orange Lemon
Orange Lemon by Yeti is a refreshing E-liquid featuring the intense flavours of freshly squeezed Oranges and lemons, providing sharp tones of sweet citrus. This vape doesn't just taste great but has a moreish and uplifting aroma.
Kiwi Pomegranate
This one is a little bit different and really special. A fruit blend that has been expertly calibrated and then blasted with the Yeti freeze to create an incomparable fruit delight.

Apple Cranberry

The sweet green apples and tart cranberries that makeup Yeti Apple Cranberry are a winning combination. The flavour of this vape is sweet, with a tangy undertone, and the exhale delivers a powerful hit of menthol mint.

Strawberry

Yeti Strawberry is a delectably invigorating vape with a prime selection of plump, juicy strawberries sliced and diced to produce many sweet flavours. The exhale has a taste that is reminiscent of frosty menthol.

Grape

Yeti Grape is a vape juice that has a nearly flawless flavour profile. It features a blend of deep blackberries that is both light and sweet, and it is finished off with generous amounts of menthol mint.

Cherry

Yeti Cherry contains plenty of sweet cherries mixed with a touch of sugar and then finished with a powerful menthol rush.

Watermelon

Yeti Watermelon combines the energising and thirst-quenching flavours of freshly sliced watermelon with a mild but energising blast of minty menthol to create a flavour that Yeti calls "Yeti Watermelon."

Orange Mango

Yeti Orange Mango has the pleasantly tangy flavour of freshly sliced and squeezed oranges blended with the tongue-twisting tropical tang of ripe mangoes and an icy menthol sensation on the exhale. This flavour combination is topped off with a cool menthol aftertaste.

Honeydew Blackcurrant

Yeti Honeydew Blackcurrant contains fragrant slices of delicious honeydew melon and deep dark grapes, which combine sweet and acidic flavours and a hint of chilling menthol on the exhale.

Lemonade

Yeti Lemonade is a delightfully cool and delicious lemon beverage to quench your thirst on a hot summer day!

Blue Raspberry

Yeti Blue Raspberry is an ice flavour that combines the tangy taste of raspberries with the sweet taste of blueberries.
Blue Razz Cherry
This frosty concoction is the perfect balance of sweet, sour and cold. It leaves you stuck in a state known as "permafrost", where one can't help but search for more!
Kiwi Passionfruit Guava
The Yeti received a tropical masterpiece from the strong winds. Fortunately, it was frozen and preserved forever by the time it arrived in the arctic.
Strawberry Raspberry Cherry
This is the ultimate red slushy flavour, mixing all of your favourite fruits into one wonderful drink. It will transport you to the Yeti cinema, where it will be brain freeze time as soon as you sit down.
Frozen Pear
Yeti Frozen Pear E-liquid includes a frozen fruit blend with icy highlights blend that captures the luscious and delicate flavours of pears paired with an infusion of polar ice that you will adore!
Banana Blast
The Banana Blast is a fruity blend with frosty undertones and a strong taste. The flavour of ripe banana hits you immediately, and it has a texture that's nearly like cream, followed by the taste of menthol.
Cola
Yeti Cola is a classic cola-flavoured beverage, complimented with soothing ice.
Bubblegum Candy Cane
Bubblegum Candy Cane - We don't build snowmen as they tend to melt. Bubbles, on the other hand, float far and wide and take this juicy bubblegum flavour all over the world!
Original Candy Cane
Original Candy Cane - The Yeti's finest Peppermint Christmas treat. Sweet sugar meets chilled strawberries. Wrapped up and ready for the tree!
Raspberry Candy Cane
A fun fruit twist on the Yeti's finest creation. The kryptonite to any frosty foe. Chilled raspberries take this flavour beyond the arctic. Ho Ho Ho!
What VG/PG Ratio Are Yeti Nicotine Salts?
Yeti Nic Salts have a VG/PG ratio of 60/40, making them perfect for use with small and discreet mouth-to-lung and pod kits.
What Nicotine Strength Are Yeti Nic Salts?
Yeti Nicotine Salts are available in 3 different nicotine strengths:
• 5mg (Low)
• 10mg (Medium)
• 20mg (High)
View full details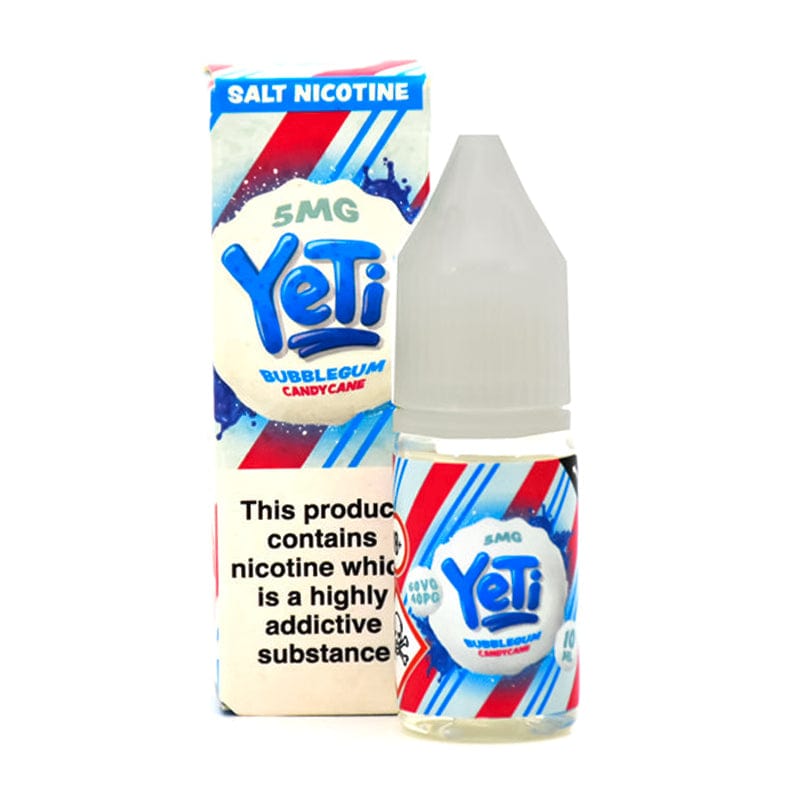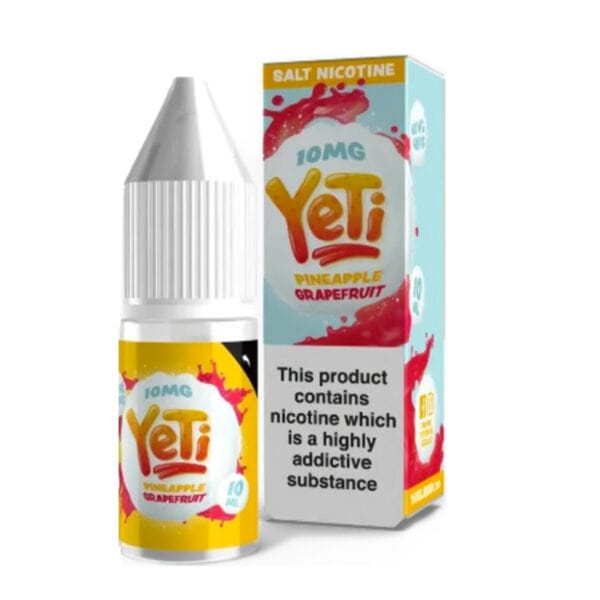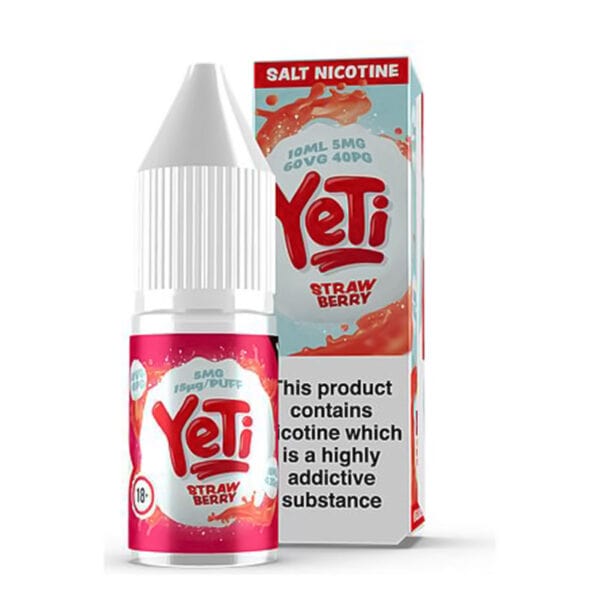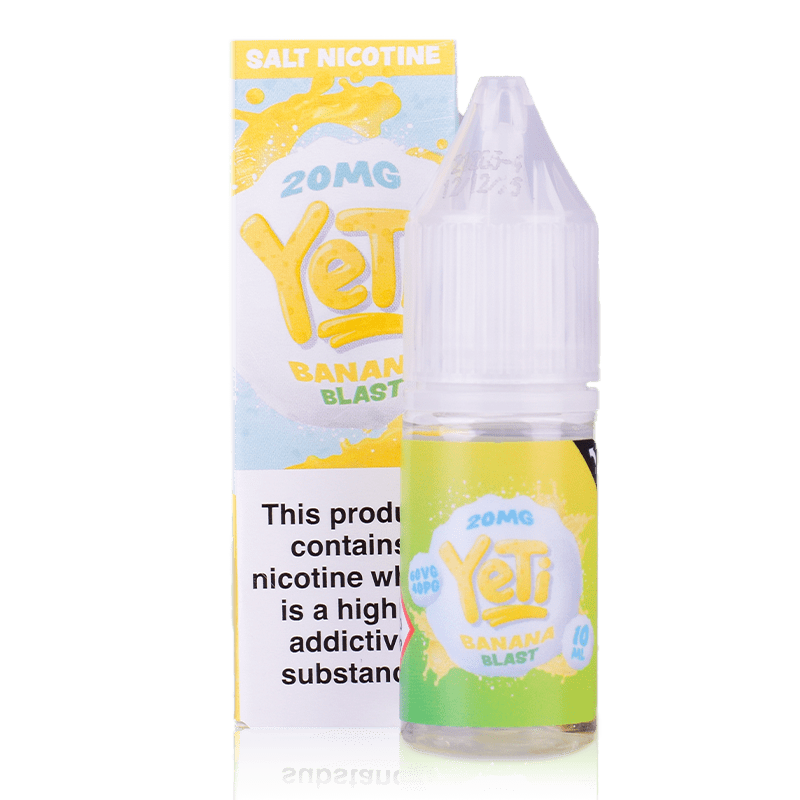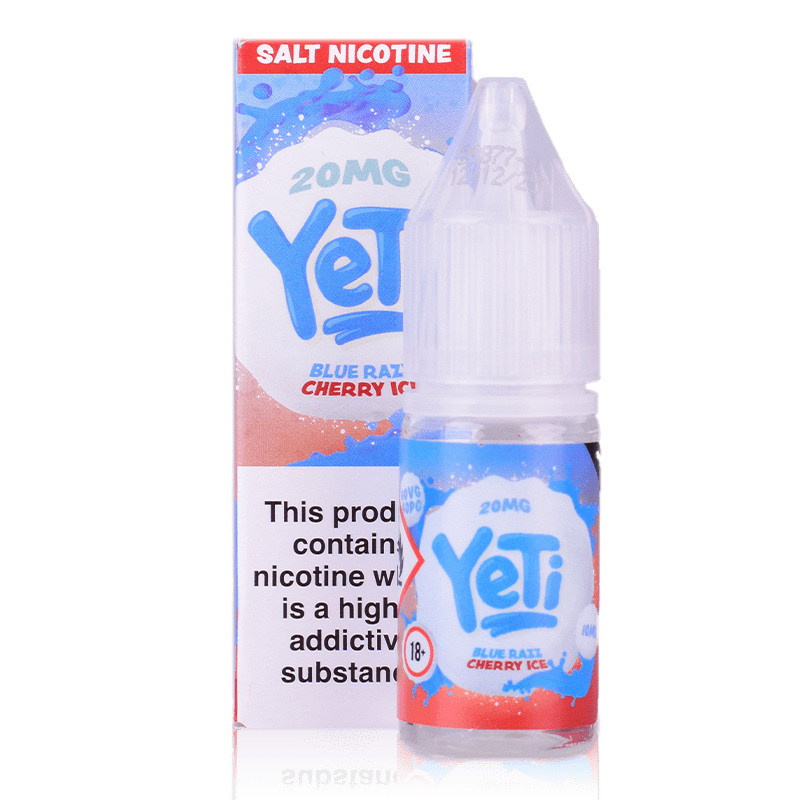 Love the flavour of this one
Yeti Banana blast
First time trying this new flavour and it's great just a shame they don't do a five ml strength instead of a ten but well worth a try great flavour for the summer .